Ladies and Gentleman!
Welcome to the Greatest Show on Earth!
(For larger images, please click on the photos)
In the Center Ring, the Clowns!
In Ring Number 2 The Magnificent Monterey and His Fearsome Trained Rats!
(Quick, send Monterey some help!)
And in Ring Number 3, Willamena the Wonderful and Her Weasely Friends!
Care for a snack?
This table was on display at the Hug-In Teddy Bear Show and Sale in Toronto on May 1st, 2005, where it won "Best Dressed"!
It was a pleasure to take part in the Hug-In and both Sue Gueguen and I, Karen Waschinski, had an amazing time!
To the right, there's Sue helping some happy customers and to the left that's our table in all its glory before the doors opened.
This was the first show for Scratching at the Window and all my critters were well-received. Teddy lovers couldn't stop petting Sue's wonderfully soft recycled fur Powder Puff Teddies, and the bears didn't mind!
At the hotel's entrance stood this great big Mountie Teddy, welcoming everyone in! Wow!
And here are some individual pictures of some of the creations on our table. If any interest you, please inquire! And if you were at the show and wondering if someone you're still thinking about is still available, please ask!
Here's my Tobee, a very pretty 12" rust mohair bear and my fully-wired 13" long female rats, Pamina and Pandora.
In our hotel room, Sue's favorite, Jabez, got into the wine while we were out (I think my woosel Trillia helped a bit with the cork!).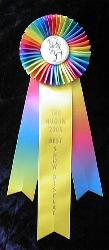 Our lovely ribbon for Best Dressed Table!
Thank you for looking! For information about the Hug-In, please contact Ruth Fraser,
telephone: 416-493-2944, fax: 416-256-7717
For information about the animals, please visit Powder Puff Teddies or Scratching at the Window
---
These pages created by Karen Waschinski
Questions? Comments? Please e-mail me at woosel[at]total.net