Sarah Bratbie Went Shopping!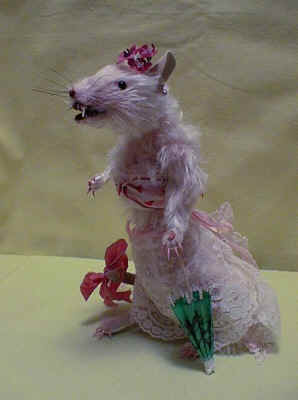 Wearing a heart-pattern bra-top, an off-white floor-length lace skirt with pale pink lace ribbon tie and a pink tail ribbon, Sarah went off to do some serious shopping...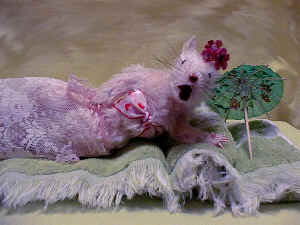 ...after relaxing on the beach, that is!
Now, to the business at hand...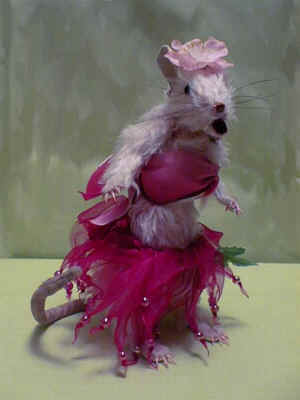 Here she is in an outfit she calls "Pink Fay". With an apple blossom head-dress, she's wearing a pink ribbon brassiere with a matching beaded carnival skirt adorned with a few leaves. Very sweet!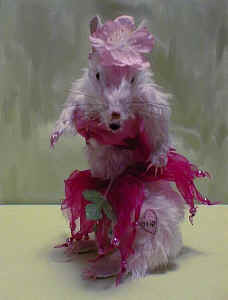 Plus she gets a chance to show off her tattoo!
And sporting a pearl-beaded bikini top and little else, Sarah enjoyed this little romp on synthetic cat-skin surrounded by jewels!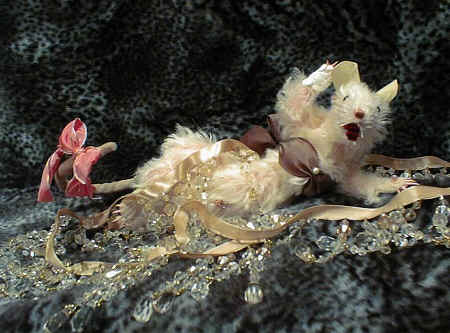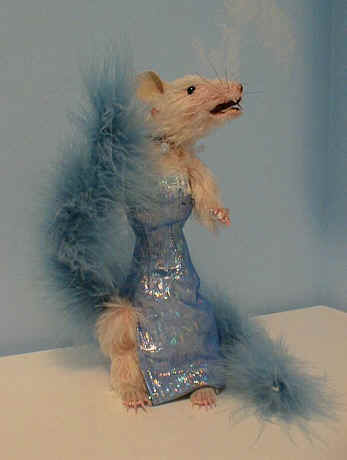 The glamorous life certainly suits Sarah! Here she is in a knock-out shimmering blue number by Carol Heatherly. Look at that waistline! Eat your heart out, Barbie!
A question of height... unfortunately Sarah isn't nearly as tall as the doll for which these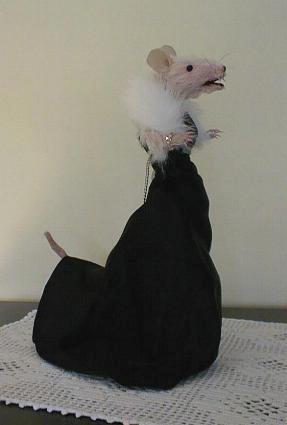 dresses were made. Here's a picture of what she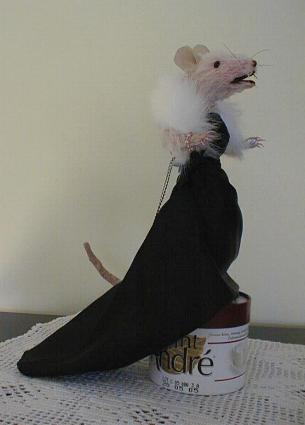 would be like if she were Barbie's height, and here's a picture showing how much Carol's dresses need to be hemmed up.
St. André, eh? That was a pretty tasty cheese...
Not that she has any hang-ups about how tall she is! After all, she is a rat and makes no excuses for it! In fact, she's proud of her adaptable nature and her incredible survival instincts. And she looks really hot in leather! Watch out world!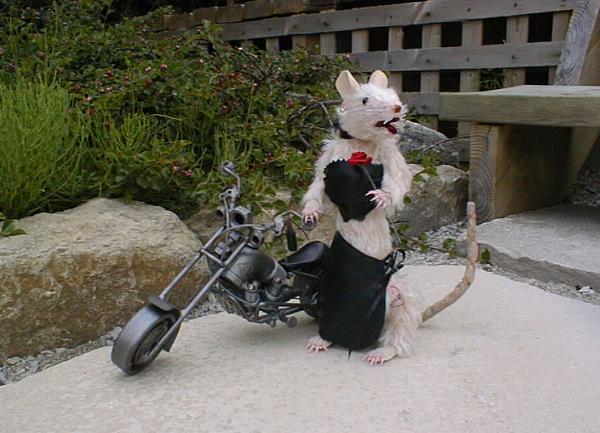 Thanks for the rose, hun, but I'M driving the bike!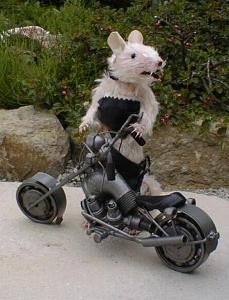 A true Motorcycle Babe, Sarah's ready in a moment's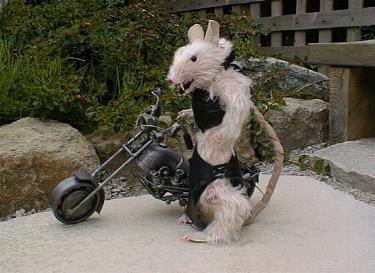 notice to hit the rode! And what a great day to head for the beach!
Ah, back to the beach! Slipping into her sunning outfit, Sarah strolls to her favorite spot...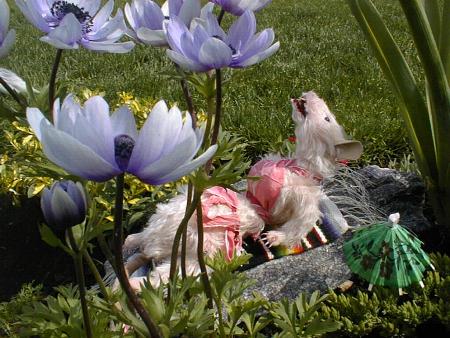 Worshipping the sun is unusual for rats, but then Sarah isn't your ordinary rodent! She loves to relax in the sunshine, and thinks she looks pretty fetching in her pink sunning suit!
Having had just about the perfect day, she's exhausted and enjoys an afternoon snooze.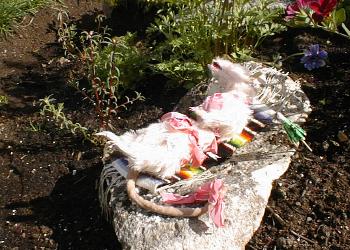 *** *** *** *** ***
My thanks again to Sarah Forest for inspiring this time-consuming, crazy, fun adventure! Creating a pink rat with a Barbie figure was a challenge and while I don't care for pink, Sarah is quite dear to me. We had a lot of fun together!
Thank you to Carol Heatherly for creating such great, glamorous outfits and for not minding that I give them to rats!
My thanks also to Sue Gueguen for loaning us the fantastic motorcycle! Of course, Sarah couldn't part with it and is now the proud owner of her own wheels and she's having an amazing time ripping around the neighbourhood!
Would you like to see more? Click here!
To see Sarah's bears, visit Bruin Mischief
Or return to Scratching at the Window
---
These pages created by Karen Waschinski
Questions? Comments? Please e-mail me at woosel[at]total.net
~~Dà Fhaol Mharbh: A Vampyre's Faerytale by Karen Waschinski (with Debra Yee)~~