Special Gifts from Carol
It seems that Sarah Bratbie has a faery godmother in Carol Heatherly as Carol has made some very special outfits just for Sarah to enjoy! So here's Sarah modeling some Carol H. "Valentino" Exclusives!

This gown is a real faerytale come true for me, as I cut out it's picture from a magazine years ago, always hoping one day to have such a gown (for when I get invited to the Oscars, you know!)! When Carol agreed to try to create something like it, I had no idea it would be so beautiful! So while I may never have such a dress, Sarah does! And she loves it! Black silk ribbons lace up the bodice while a flowing skirt of soft embellished fabric reaches the floor. Little tulle sleeves (that open at the back, thank you Carol!) are the icing on the cake. And where would one wear such an amazing gown (other than the Oscars!)? Why, to a costume ball, of course! Here Sarah is about to put on her raven mask.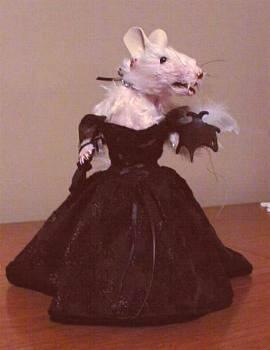 | | | |
| --- | --- | --- |
| | Wow! While I can't make clothing I CAN accessorize! The Mask is Fimo with a swan's feather. Sarah has chosen red glass bead earrings and a rhinestone and ribbon choker to complete the ensemble, as well as a glittering ribbon tail-wrap. | |
She also has on a pair of black high-healed shoes with red glass-beaded straps and a matching draw-string purse.
Of course, Sarah leads a much more interesting life than I do and has many glamorous functions to attend. For events when she really wants to shine and yet still be the height of sophistication, she slips on this gown:
| | | |
| --- | --- | --- |
| | With the low-cut halter top accented with silver beads and a shoulder wrap all in a sparkling blue, she dazzles them all! | |
Birthday celebrations are occasions when she likes to put on something that makes her feel as good as gold, like this wonderful dress that makes her feel young, fun and the center of attention!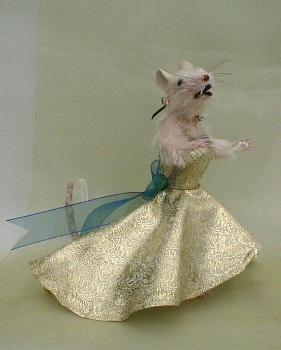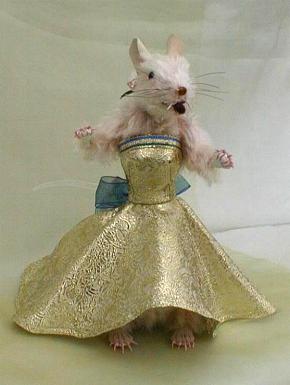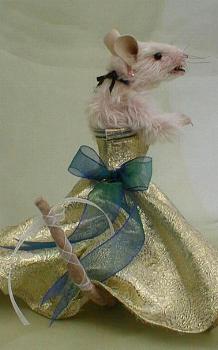 A fitted bodice and full skirt in gold lamé is beautifully finished with blue-green ribbons!
And for when she needs to be a little more demure and respected, Sarah puts on this lovely velvet 2-piece outfit that makes everyone sit up and listen!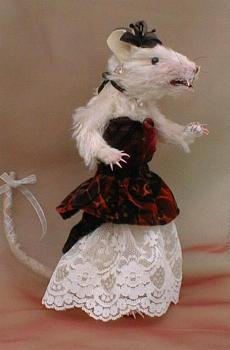 Entering a room for high tea, or council chambers, Sarah knows she won't be over-looked wearing her rich, red velvet and lace, topped off with a silk flower hat and black ribbon choker. Step aside, ladies and gents, Sarah is coming through!
Thank you again to Carol for all these amazing outfits, they are a pleasure to play with! Sarah and I are having just a wonderful time!
Sarah as a Water Rat? Click here!
Return to Scratching at the Window
---
These pages created by Karen Waschinski
Questions? Comments? Please e-mail me at woosel[at]total.net
~~Dà Fhaol Mharbh: A Vampyre's Faerytale by Karen Waschinski (with Debra Yee)~~