Okto-BEAR-fest!

part of the:
On October 6th, 2007, from 10am to 4pm, I hope you were able to join us for the third annual Okto-BEAR-fest in Kitchener, Ontario. My critters and I, Karen Waschinski (Scratching at the Window), were there along with some 20 other artists!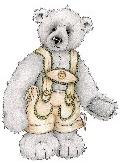 This was the first Saturday of the annual Oktoberfest celebration so there were lots of wonderful things to experience in Kitchener to make a fun-filled day-trip! (Please click on the logo above to get to the official website.)
For 2007 there was also a Miss Okto-BEAR-fest contest! Did you come out and vote for your favorite lady bear? The winner was selected by you, the public, and you can still view the bears online and enjoy the artistry and imagination that they showed off!

So, will there be an Okto-BEAR-Fest in 2008? Sadly, it looks like there will not be but please feel free to show your support by contacting the show organizer!
Okto-BEAR-Fest was held at the Doon Heritage Crossroads in the Hall of Fame, 10 Huron Rd. in Kitchener, Ontario. Kitchener is about 1 1/2 hours west of Toronto, 35 minutes east of Stratford.
Using Hwy 401 or the 7/8, turn onto Homer Watson Blvd. Go along Homer Watson and turn onto Huron Rd. See the maps below (look for the red star) and if you have any questions, please contact the show's organizer, Chris at chris70@golden.net or 1-519-699-5419.
There are more maps, the show's details and a listing of all the other wonderful artists that will be exhibiting on the Okto-BEAR-fest webpage, click here!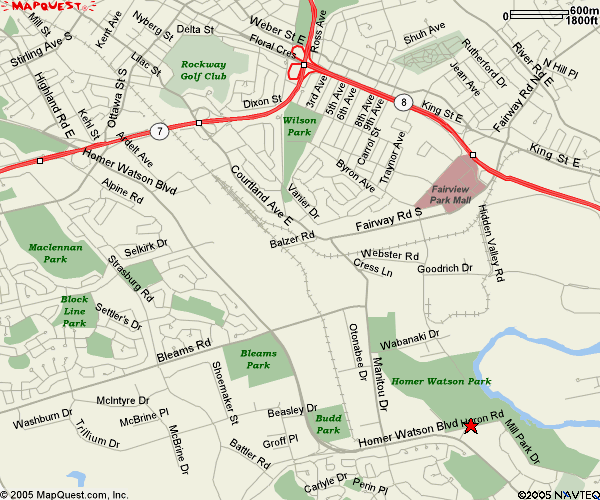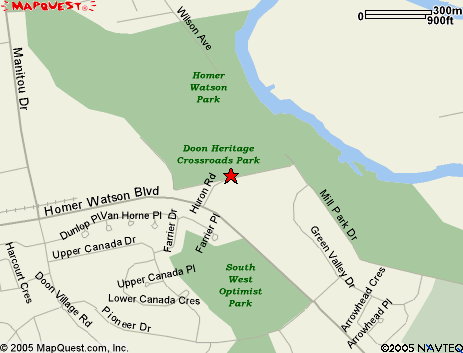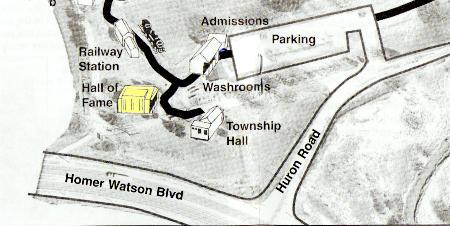 (This map is from the Doon Heritage Crossroads visitor's guide pamphlet.)
The Hall of Fame is the building in yellow. Admission to the show is $3.00, and parking is free.
Okto-BEAR-Fest
Hall of Fame
DOON HERITAGE CROSSROADS
10 Huron Rd.
KITCHENER, ONTARIO
10:00am to 4:00pm
Return to Scratching at the Window
---
These pages created by Karen Waschinski
Questions? Comments? Please e-mail me at woosel[at]total.net