Teddybears from all around the globe meet every year in Münster, Germany, for the Teddybear Total, the largest Teddy Bear show in the World!
And in 2003 there were three swans from Canada!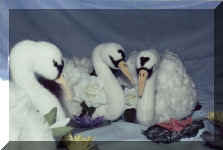 An announcement from Karen Waschinski:
It was more than six years ago when I first contacted German artist Angelika Schäfer-Siegmund about her beautiful bears. Of course, I adopted one of her baby Polar Bears immediately! Since then, the wide Atlantic hasn't hindered our friendship from growing and we communicate any way we can, by mail, telephone, e-mail and FAX.
I'm always amazed by Angelika's incredible talents! It was, therefore, my great honor and privilege that in 2003 she asked for three of my swans to be included with her work at Teddybär Total!
To see more of Angelika's incredible work, please click here.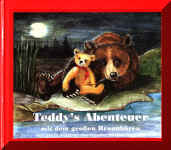 Angelika's book, beautifully illustrated with full-color pictures throughout
To learn more about Teddybär Total, click here.
Please click on the above photos to see full-sized images
Or return to Karen's critters
All animals on this page except the swans © Angelika Schäfer-Siegmund and all photos © Günter Schäfer
---
These pages created by Karen Waschinski
Questions? Comments? Please e-mail me at woosel[at]total.net