Continued...
I watched old episodes of Buffy, preferring Season I, and paid attention to all the details: counting earrings, noting hair styles, sketching her shoe fashions!!! I wanted to make the piece as true to the character as possible!
And then I set to creating her! With the soundtrack to the musical episode "Once More With Feeling" playing in the background, I started on Buffy in early January! My basic Cherry Pie pattern laid the groundwork.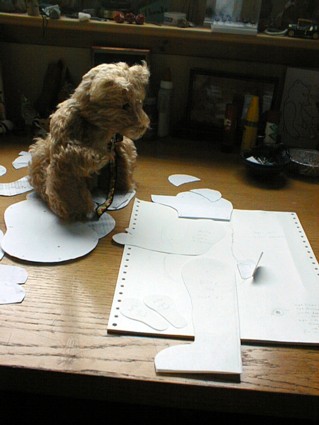 Here's Cherry Pie giving me some pointers about Buffy's pattern. He was a great help! Longer arms and legs and a completely different body shape, a hand with a thumb and shapely feet... I think only the tail didn't get altered!
I started in head-first, needing to see if I could create a feminine face! Green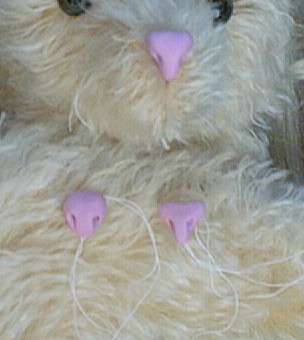 glass eyes, a Fimo pink nose, eyelashes and the blond wig made her come alive in my hands!
I made three noses to choose from, as you can see, from blended Fimo. And then the eyes and hair...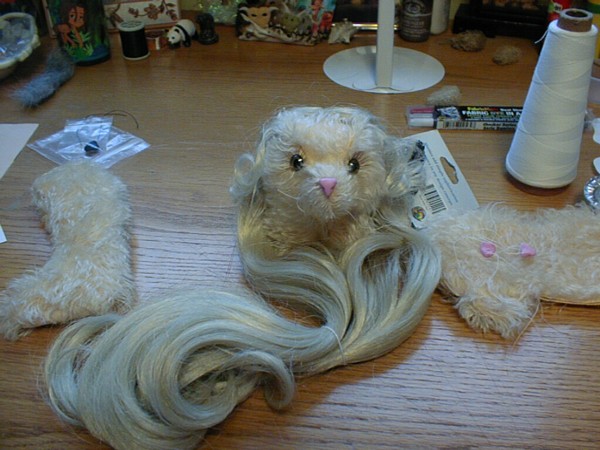 This was just a test but as you can see all the elements really fit together and Buffy is well on her way!
I then turned my attention to her hands and feet. I did one of each to test my pattern and my first try at her thumb failed miserably! Of course, in order to hold her stake and the demon's neck, Buffy needs thumbs. Luckily the second attempt, making a separate thumb and sewing it onto the hand, worked out much better! And her feet had to be neat and petite to fit nicely into high-heeled shoes.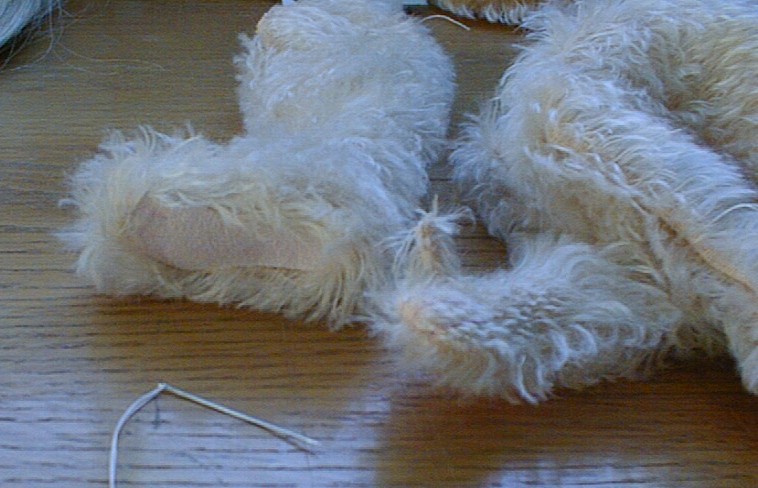 Once all 4 limbs were complete, all the pieces could be put together! Here is Buffy! None of the body parts are properly attached but these photos show that everything is going to come together fine! The ears were sewn on where human ears would be because they looked silly perched on top of her head (think Minnie Mouse!).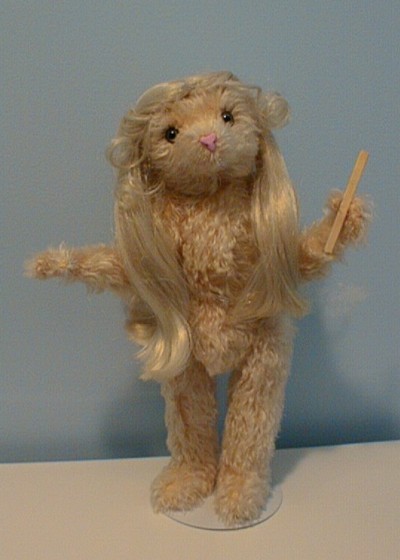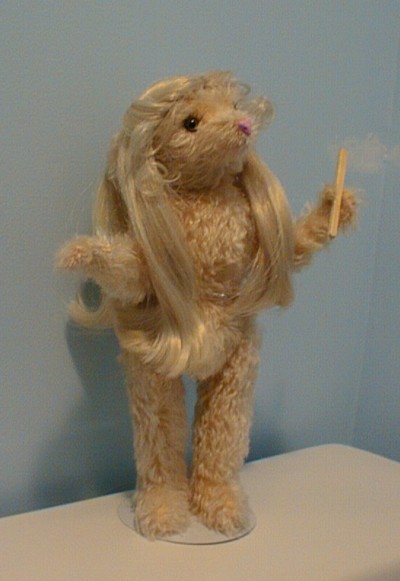 Well, I had to stop working on Buffy now and switch over to the Vampire Demon. Before sewing her up, I wanted to see how she and the Demon would interact in case there are any necessary alterations. So, on to the Demon! Click here!
Back to Scratching at the Window